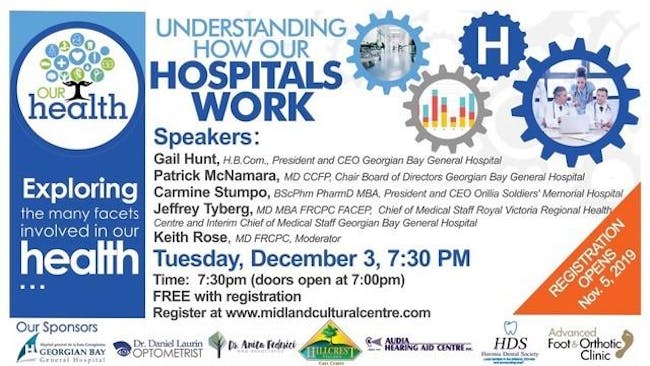 Registration Opens November 5th!
There are many parts that keep our hospitals running successfully. Learning how hospitals work can help all of us understand some of the challenges facing these essential community health resources.
Did you know that our three local acute care hospitals, Georgian Bay General Hospital (GBGH), Orillia Soldiers' Memorial Hospital (OSMH), and Royal Victoria Regional Health Centre (RVH), combined have over 600 inpatient hospital beds and a total operating budget of almost $600M each year? The next "Our Health" event, "Understanding How Our Hospitals Work" will focus on how hospitals are governed, funded, as well as how they operate and provide safe care to patients.
Our four experts, Patrick McNamara (Board Chair), Gail Hunt and Carmine Stumpo (CEOs), and Jeffrey Tyberg (Medical Chief of Staff) know how to manage hospitals. Here are a few topics that we will discuss:
Governance Boards for Hospitals and their mandate
Finance; capital/operating expenses and sources of revenue
Clinical program decision making and partnering with other providers
Hospital relationships with their medical staff and the recruitment process
How hospitals are approaching future changes
Join us on Tuesday, December 3 at the MCC at 7:30 PM. If you cannot attend in person, you can watch this event in early January 2020 online.

Admission for each event is free, thanks to our generous sponsors. Registration opens November 5, 2019.

Last minute seating is often available on a first-come first serve basis on the evening of the event. However, the best way to ensure a seat is to register in advance.

Venue Information:
Midland Cultural Centre - Rotary Hall
333 King St.
Midland, ON, L4R 3M7