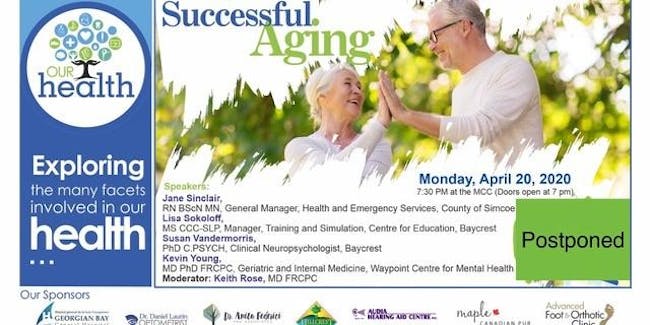 Our Health: Successful Aging Registration Opens March 23, 2020
Is it possible to change our destiny when it comes to the aging process? Can we keep our brains and bodies "well oiled" so that we can thrive as we get older? Of course, we can!
On April 20, "Our Health" is hosting four experts who will tell us how we can take some simple steps that will help to make a real difference as we age. You'll learn how positive thinking, social and physical activity, as well as lifelong learning will support successful aging.
Learn what the County of Simcoe is doing to support positive aging in our community around transportation, housing, social participation and outdoor spaces.
Baycrest is home to the world-renowned Rotman Research Institute and the Centre for Aging and Brain Health Innovation. Listen as two panelists from Baycrest share their findings on how people learn, think and communicate as we age.
Our Regional Geriatrician will provide insights into what we can expect as we age. Is it normal to have memory lapses? Can we prevent dementia by doing crosswords or sudoku? How can we adapt to changes in vision, hearing and touch as we age? Can we maintain optimism and positive mental health when faced with some of the changes of aging?
Journey with us as our panelists answer these questions and de-bunk some of the myths surrounding aging. Our experts will give us strategies to promote brain and body health and help us to live our "best lives" as we age.
Admission for this event is free, and registration at the MCC opens Monday, March 23, 2020. Last minute seating is often available on a first-come first serve basis on the evening of the event. However, the best way to ensure a seat is to register in advance.
Online videos are available for these events at Our Health Videos (Rogers subscription not required)
Please visit our Facebook Page at, "Our Health-North Simcoe" to provide any comments, ideas or suggestions on this topic or future topics.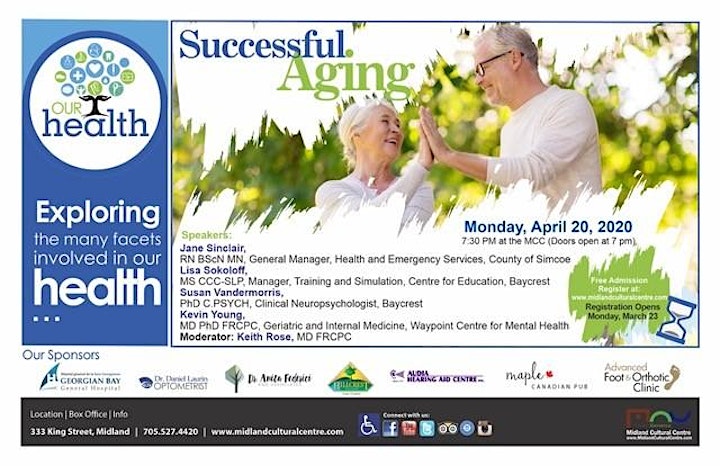 Venue Information:
Midland Cultural Centre - Rotary Hall
333 King St.
Midland, ON, L4R 3M7