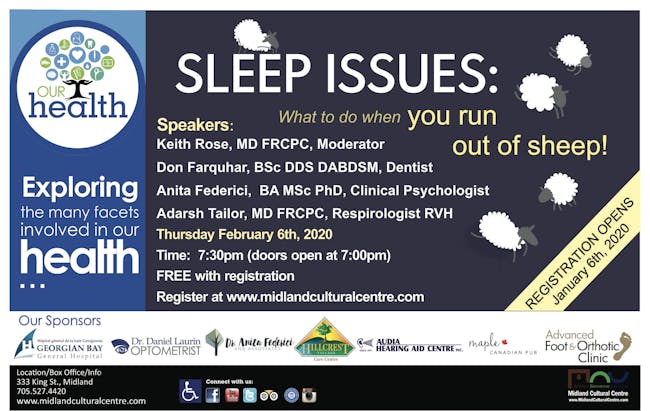 Our Health: Sleep Issues. Registration Opens January 6th!
Sleep Issues: what to do when you run out of sheep!
Sleep is a vital part of our being. We think about, we sometimes crave it and we know when it eludes us. Sleep occupies one third of our lives. Come and learn more about it. We promise to keep you awake!!
Learn about the science of sleep and how our health can benefit from a good night's sleep. Hear about the downsides when we fail to get enough uninterrupted sleep including; dementia, cardiovascular disease, bedmate's frustration, fatigue and mood or temperament changes.
Joining us on our panel of experts are a clinical psychologist, Anita Federici; an internist and respirologist, Adarsh Tailor; and a dentist with a specific interest in obstructive sleep patterns, Don Farquhar.
Our three experts will delve into medical conditions that interfere with sleep, like sleep apnea, which is snoring due to airway obstruction and frequent stoppages of breathing. When treated, cardiac and brain health and sleep will improve. For those who don't have a medical cause for sleep disturbances, we will review several practical ways to fix or alleviate your sleep stresses. We all know that a change of lifestyle, less eating, smoking and drinking, and more exercise, will make a difference! Beyond this, what are the pros and cons of sleeping pills? Is sleeping solo an option? Will yoga or a new pillow help? Should I just get out of bed and try to solve my free floating anxiety? Can I change my thinking to improve my sleep? Take home many helpful hints and learn why healthy sleep means a healthy life!
Admission for this event is FREE thanks to our generous sponsors.
Registration at the MCC opens Monday January 6, 2020.
Online videos are available for these events at Our Health Videos (Rogers subscription not required)
Last minute seating is often available on a first-come first serve basis on the evening of the event. However, the best way to ensure a seat is to register in advance.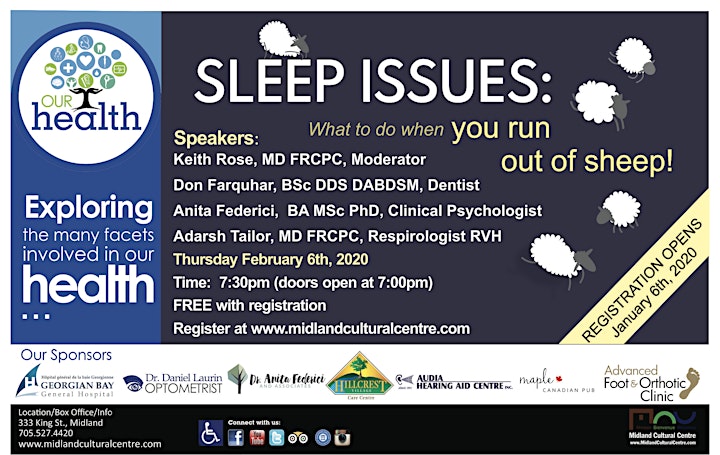 Venue Information:
Midland Cultural Centre - Rotary Hall
333 King St.
Midland, ON, L4R 3M7